Now that I have an eVisa for India in hand Princess has suggested getting a "real" visa for India as sometimes the eVisa causes problems entering the country. [sigh] So, the travel agent (Karla at Town & Country Travel) and I have been going back and forth for a few days now filling out paperwork for a visa service company to get the visa from the Consulate in San Francisco. If you have to do this be aware that the visa application must be filled out very specifically and have information in exactly the right place and order. A couple of tries and I can say to speed the process you should make a contact at whatever visa service company you use, send them a draft of the application by e-mail and get them to review it in detail before you actually print out the paperwork and physically get it to them. For India in particular, make certain you make note of the application number so then if you have to fill it out multiple times you can enter that and have at least most of the information pre-filled out for the next iteration. Please learn from our experience!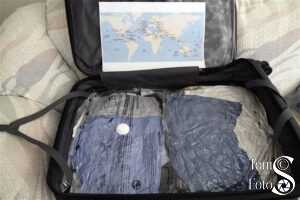 As to packing, believe it or not, while it's still a month away from the trip the clothes portion of the packing is pretty much done. I've been culling clothes for probably a month now and feel I've gotten things down to a reasonable amount for four months and I've used vacuum bags to seal everything up into minimum space and about half the big suitcase now contains my condensed clothes. Everything is washable and colors so only one load of laundry will have to be done at any given time (weekly I suspect). I've also discovered that you can use a solid color polo shirt with a clip-on tie under a black suit coat and it looks very good and will serve for any formal nights. No tux required unless you are some sort of purist. I'm using the old adage that says "perfect is the enemy of good enough" to do my garment planning and packing. 🙂
Getting the prescription medicines in line will be one of the next tasks. I'll need more than the 90 day supply I'm normally sent and so I'll have to figure out which I have extra of and which I'll need to advance the prescription for.