Even though the Pacific Princess is the smallest ship in the Princess fleet, the food onboard had been both good and ample. Of course we are only four days out as I write this but I think the quality should continue as it has been.
You can order a breakfast in your room (have not done that yet), breakfast in the dining room (not done that either), or have breakfast at the Panorama Buffet on deck nine at the stern. That's pretty much where I've gone for breakfast and the plan is to have breakfast, skip lunch, and then have supper. The plan has not always worked out. 🙂
There are many options for lunch including the dining room, buffet, a pizza window, and a BBQ station with an outdoor grill. The also have a tea at about 3pm each afternoon and there you can have small sandwiches, scones, and other pastry items along with your tea. Tried it once but with the early supper time I have it does conflict. May do it again some day when I'll just skip the dining room and have supper upstairs in the buffet at a later time.
Supper is at the buffet and dining room. I've been using the dining room so far and the selections are both interesting and good. Tonight I decided on the French Onion Soup they put on the menu and a Garlic Shrimp main course with rice and over a bed of lightly sauteed vegetables. Then, comes the dessert menu. 🙂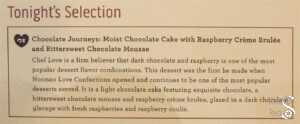 Tonight they had a chef's specialty: Chocolate Journeys: Moist Chocolate Cake with Raspberry Creme Brulee and Bittersweet Chocolate Mousse. I've posted the menu description and a photo of the dessert itself so you can see it for yourself. Sorry but one of the dark chocolate pieces had fallen over when it was set in front of me and I did not want to mess it up further trying to put it back in place. You can see from the photo where it belongs. (Click on the image if you can't see it clearly in the small size.) It was excellent.
After supper tonight we met the crew at a party and learned that for this part of the voyage we have 609 passengers and 380 crew; two passengers per crew member. Some 497 of the passengers come from the USA with the next largest group from Canada. The rest are scattered around the world.
Back to other tasks now. This will be automatically posted the next time I log into the ship's Internet (which I tried today for the first time). Slow, of course, compared with broadband but not too bad. Just costs a bunch of $$$.