We are presently at the dock in Burnie, Tasmania just across the Bass Strait from Australia. The day's tours are over and we will be leaving port in a couple of hours. We are docked next to cargo ships as there is no cruise dock in Burnie and so our movements on the dock are very controlled. Just to get into town you have to ride a shuttle; no walking in the cargo area. Security is tight.
Burnie has only accepted cruise ships for a rather short time and today set a record of sorts as both we and a Europa cruise ship were docked. This is the first time two cruise ships have been in port at the same time.

At the end of our tour of the area we made a stop at the top of a hill overlooking the port area and I was able to take shots to form a panorama of the commercial area of Burnie. The city proper is out of view to the left but you can see the two cruise ships near the crane in the middle left of the photo.
The tour today covered quite a number of miles. We went down the coast to Table Cape, an extinct volcano pushed up and now an agricultural area growing poppies, tulips, and other crops. We stopped at a lighthouse on top and a viewpoint a short distance away. The viewpoint gave us a look at the coast we just drove by all the way back to Burnie.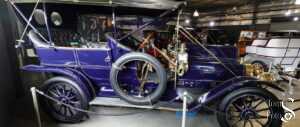 From there we visited the Wonders of Wynyard information center and museum of vintage cars. The local collection contains a number of rather rare cars including (see photo) a 1907 Ford Model K six-cylinder auto. Only 900 were made between 1905 and 1908 and this is one of only eight known to still exist. (If you see any small defects in the photo please ignore them; it's a three shot combination and a few lines near the windshield refuse to come together due to perspective problems as a tripod was not used.)
From there we made our way inland some to the Hellyers Road Distillery, Australia's largest of single malt whisky. We each got a card to taste two drinks (15ml for whisky and 30ml for cream). I picked the original whisky and Hazelnut Cream. Both were good and the whisky was smooth; no bite. Did not buy any however as you can't bring hard liquor onto the ship without giving it to Security to hold until you finally get off the ship. Too long to wait and who knows what US Customs might have done to it.
Then, a ride through the main part of the town to show those who wanted to take a shuttle what was there and, finally, a return to the ship.
Tomorrow is at sea again and it looks like the weather will cooperate better than it did last night when the ship went through possibly the worst seas so far on the trip. Some people reported things being thrown off their desks; my stuff was quite happy where it was. Am happy I sprang for the slightly higher cost of a mid-ship cabin.