Woke just before my 8:30 alarm when the bridge called for a medical team one deck down and the other side of the ship; our first emergency call this trip. We were already at the dock not that this was a good thing since Icy Strait Point only has a Physician's Assistant and anything beyond simple has to be evacuated to Juneau or Seattle. No further information at this point.
The day was overcast all day but, for a change, no rain. I left the ship an hour or so earlier than needed to catch my excursion in order to walk around a bit. Beautiful area and the port facilities here are only a couple of years old. This is also a completely private port unlike most that are government-run operations. The area is pushing to become a tourist destination and they are starting to build it up properly by my estimation.
The excursion I picked for today was a walk looking for wild animals by the local river. We left the port and drove out about 30 minutes and got off the bus and watched it drive off. Not to worry, the trail we would take was a U-shaped trail so it was waiting for us at the end.
We walked through a meadow and down into trees ending up at a viewing station above the river. The trail was well maintained (again a plus for management by a private company) and even had some netting tacked to the wood for better traction (apparently a few years back a lady fell and broke her hip on the trail so they improved it). We had two guides with the group (about 30 people) and two others with rifles; one ahead looking for game and one behind to make certain nothing snuck up on us. Fortunately, they've never had to use the guns but it was nice knowing they were there.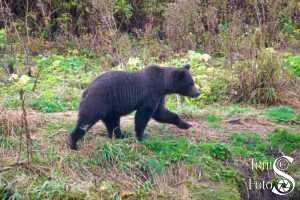 Got to the river and in an amazing stroke of luck, there was a brown bear! It was a juvenile (estimated age was five by the guide) and looking for food as winter is coming on. We got photos as it crossed the river away from us then turned our attention to other spots where we saw two bald eagles and then behind us well into the bush a deer just casually eating. Got photos of all which you see here.
Everyone was quite happy as prior tours over the past few days had not seen a bear, it being so late in the season and the salmon run largely over. We walked on to the next viewing station along the river and low and behold, our bear had turned around and was walking along the other side of the river directly in front of us.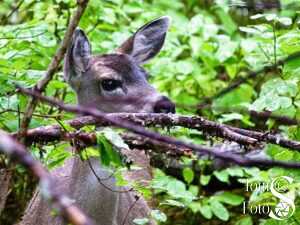 The next viewing station the same thing happened. The bear was there and this time he thought he had a fish cornered in the river. Sadly for him it got away as did the rodent he next found. So, this bear is likely hoping for a mild winter so he can forage as he was not fat enough to hibernate.
That was the last viewing station so we made our way back to the road (uphill of course!) to meet the bus and come back to the port. Maybe 3/4 mile walk total.
Another excellent, fun day.