I had canceled my excursion to the museum and Atomic Bomb Dome due to how I felt but last night before arriving in Hiroshima I started to feel better and had heard about a different excursion that better represented Japan and not memories of the war. So I signed up for it as there was space left. The tour was a vintage liner cruise to Miyajima Island often called "Shrine Island."
Of course, I was betting on the weather as it had been over the last several days: hot and humid. So, it was something of a surprise when I opened the curtains this morning I saw — rain. It was a light rain but still required planning for rain rather than hot sun. That done, we left the ship and instead of heading for the terminal like everyone else we were shunted to the side and walked over to an old white mini-liner called the Galaxy. That was our main transportation (besides our feet) today.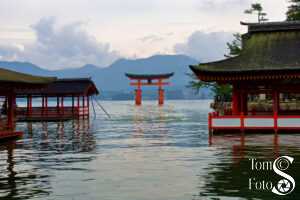 We left the dock and sailed across the bay to Miyajima Island. The island has many shrines and temples; the most famous of them being the Itsukushima Shrine. This shrine is built over the water and sits on pylons so when the tide is high the shrine looks like it is floating on the water. We saw that as when there the tide was high; not quite high enough to hide the pylons but good enough to show how the illusion might look.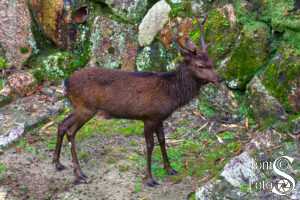 We walked from the liner to the shrine and a temple and then explored the area and town for an hour. In addition to high tide we had a bonus of local deer showing off as we walked along; mostly does and some fawns but one stag posed with a nice rack of horns.
Of course, the route back to the Galaxy was through the tourist shop streets. It was fun looking at all the stuff and how the kids on tour from school interacted with it. I looked for the one thing I might have purchased (a set of chopsticks with dragons on them) but never saw one (yet).
We got back on the Galaxy and shed our jackets as the rain had stopped and while overcast, the temperature had risen and more importantly the humidity was up. We took a long route back to the dock. As we did so we were fed some dessert snacks, tea and then found out we could also order other beverages. I had one of the best beers (Asahi dry) I've had in my life on that little ship.
Immigration was ready for us so I checked out of Japan and got my passport stamped as having exited the country. Next stop now is our first China stop after two sea days. Oh yes, I should mention that I can talk again but still probably should not give a speech! 🙂