We are presently on our way out of Glacier Bay; almost to the point where we drop the National Park Rangers off the ship so they can go home for the day. I'm glad we are sailing out and not in at this moment as it is quite foggy and there is no land to be seen. The ship is blowing its fog horn to warn any small vessels. The bow camera looks like modern art with drops of water on it. But, we had a good day.
Most of the day until we turned to leave was a high overcast with little to no wind and temperature in the low 40s. When I went outside I did have multiple layers with my heavy shirt and heavy jacket with hood. Also had a light knit cap to help keep my head warm. In short I looked pretty much like a rolled up blanket standing vertically. But, looks aside, I was comfortable.
Made a good choice for cabin position on the port side as the glaciers we sailed to see were all on the port side as we sailed in and, with the fog building as it did, you could not see them on the starboard side coming back out. That meant I did get to see most everything I wanted to see from my balcony and could duck back inside when I got cold.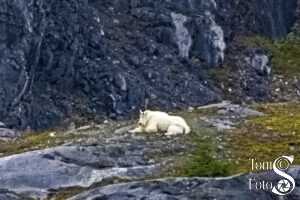 We saw few animals along the way. I was listening to the ranger and she reported seeing some mountain goats on the cliff to the starboard side as we sailed in. I managed to hurry from deck 11 up to deck 15 and got to see the little white dots as we sailed by them. Took some photos and surprised myself when I got to cataloging them this afternoon. What you see here is a 200% blowup of a very small white dot in a 600mm lens photo. I have to say I'm still rather pleased with this camera that's been with me around the world and now heading around the North Pacific.
The glaciers were amazing even if they are retreating for the most part. Hugh pieces of ice moving from the high mountain areas down to the sea and then breaking off. We did not get to see a major calving event but I did see and manage to photograph a small one. I've shaded all but the center portion of the photo here. In the center you can see where a small area has broken off and fallen into the sea making a small splash and if you look closely you can see another small piece just about to hit the water. This is one shot in a series taken at 10 frames/second.
Once we turned to leave the rangers gave a talk about Glacier Bay and the National Park Service in general and then I enjoyed a nice HOT shower. 🙂 Ended the day with supper (crab cake, streak, potatoes, carrots, and the Chocolate Journey dessert) and the show.
We are sitting at anchor now as our next destination (Icy Strait Point) is close and after leaving Glacier Bay the fog seems to have cleared some. Tomorrow I have an excursion going out to look for wild animals; particularly bears. Hope the weather holds for that.